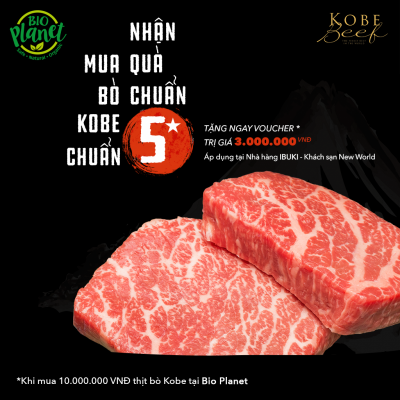 According to Caphebiz September 24, 2020
https://cafebiz.vn/mua-bo-kobe-chuan-nhan-qua-chuan-5-sao-20200923165554928.chn
From September 21st, Bio Farm and Bio-Planet, in conjunction with 5-star partners, launched the largest, unique, and unprecedented promotion for customers who have loved Kobe beef which is imported through the official channel by us.
Kobe beef is considered one of the most expensive beef in the world due to its limited supply, high cost of care, and rare quality. Each slice of Kobe beef with beautiful greasy lines like marble stone, seductive aroma, fatty taste blend with butter-like fiber melt in your mouth that is classified as the quintessence of Japanese beef. Those who have enjoyed this rare meat affirm: It is not only a piece of meat or a portion of food but also an unforgettable culinary experience!
Bio Farm and Bio Planet officially imported Kobe beef with stable volume from S Foods Japan since the beginning of 2017. We distribute A4 and A5 Kobe beef wholesale and retail, transported by air. Beef Marbling Standard (BMS) from 6 to 9, suitable for Vietnamese taste and culinary habits.
An unprecedented offer for Original Standard Kobe Beef
Our purpose is to bring more exciting experiences to customers, Bio Farm and Bio Planet cooperate with five-star partners, giving customers a voucher worth 3 million VND when buying 10 million VND of Kobe beef.
In Hanoi, the voucher is valid for all services at the five-star Sheraton hotel.
The five-star Sheraton Hanoi hotel is located by the West Lake, which is an ideal meeting place for resort guests, businessmen, or delicate diners. Sheraton Hanoi Hotel has beautiful views of the lush greenery scene. Diners come here to enjoy Vietnamese, Asian, or European fusion dishes from one of the four restaurants, lounges, and bars; relax in a tranquil spa setting or a beautiful interior garden; revive energy in the outdoor swimming pool or work out at the comfortable gym.
In Ho Chi Minh City, the voucher is applied to all dining services at the IBUKI restaurant in the five-star New World hotel.
IBUKI is a pure Japanese restaurant, located in New World Hotel, District 1, HCMC. With high-quality ingredients imported officially from Japan and all over the world, space was designed has a harmony of modern and luxurious Japanese culture; the unique cooking style tepanyaki makes Japanese zen more stand out, focus on the details of the dish and appreciate the senses; The expertise of a team of experienced chefs and delicate serving style based on standards of fine dining – IBUKI will give diners an overall experience of "Japanese taste, touching sensation".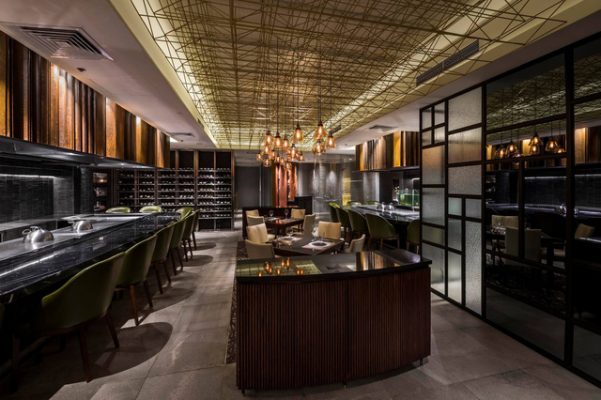 IBUKI offers a full experience from great taste, ingenious performing arts, and Japanese-style setting.
With a commitment to constantly improving services, Bio Farm and Bio Planet hope that this one-of-a-kind promotion program will help your beloved customers have a complete culinary experience.
Contact us now to enjoy the opportunity to taste premium Kobe beef and receive a valuable 5-star gift.
Box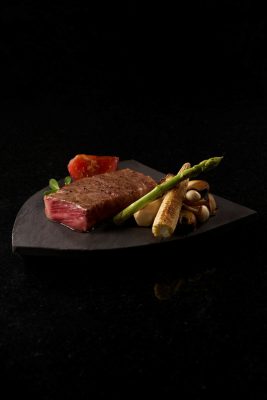 Kobe is not only a food but also an unforgettable culinary experience!
The promotion program "Buy Standard Kobe Beef, Get 5 Star Standard Gift" is valid from September 21st to the end of December 31st, for customers who purchase at retail price, buy directly at the store, or order via telephone, Facebook fan page, or website of Bio Farm and Bio Planet. The program may end before the deadline without prior notice due to a limited number of vouchers.
For more details please contact:
Bio Farm: 1st Floor – Eurowindow Building – 27 Trần Duy Hưng Street – Hà Nội
Hotline/Zalo: 090.4004.123
FB: https://www.facebook.com/BioFarmStore/
http://bio-farm.vn
Bio Planet: 48 Nguyễn Bỉnh Khiêm Street, Đa Kao Ward, District 1, HCM City.
Hotline/Zalo: 08 9922 4444 (Chat mua Zalo)
FB: facebook.com/BioPlanetStore
Website: http://bioplanet.vn/