According to VNEXPRESS News on September 28th, 2020
https://vnexpress.net/nhung-cau-chuyen-thu-vi-ve-thit-bo-kobe-4167291.html
Many politicians, superstars … come to Japan must definitely enjoy Kobe beef, which is considered as a scrumptious food that cannot be missed.
Kobe beef is one of the most expensive beef in the world because of its limited supply, high cost of care, and rare quality. So, there are a lot of people who have a great curiosity about it, and many interesting anecdotes were made up about it.
The first person who ate Kobe beef is an English man
Kobe beef was raised in Japan in the second century just for traction. People were forbidden to slaughter this kind of animal that was very important to Japanese agriculture at that time.
As beef became more popular, people began to hire workers to massage the cows to improve the quality of the meat. Kobe breeding is difficult because of the topography of the Japanese islands. The special nurturing techniques give Kobe beef a very distinctive flavor, unlike any other beef in the world. When Western culture entered Japan, this famous beef was exploited for food.
In 1868, Kobe became an international port. At that time, the Japanese did not use to eat beef. However, an Englishman changed everything when he was the first to eat black-haired Tajima beef in Kobe. He bought the cow that was used in the fields to cook the dishes and felt the taste of this meat melt in his mouth like a gift from heaven. Since then, foreign vessels entering the port of Kobe began to deal with cattle for slaughter, which was soon known as "Kobe beef".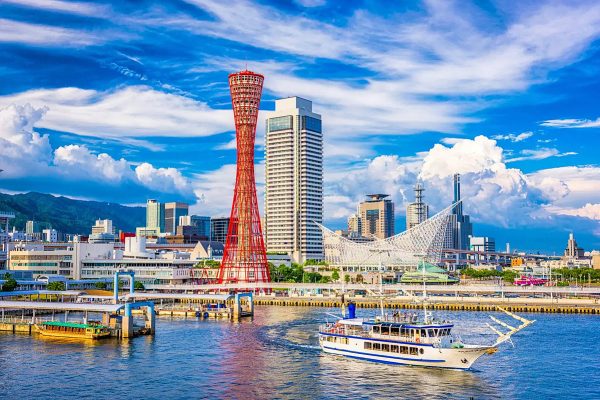 Kobe became an international port in 1868.
Wagyu beef and Kobe beef
All Kobe beef is wagyu, but not all Wagyu is Kobe.
Japanese wagyu includes many different brands, such as Kobe beef, Matsusaka, Ohmi, or Iwate. The most famous one is Kobe beef from Hyogo province in the Kansai region. However, to be recognized as Kobe beef, the breeding and production process of this type of beef is very strict and sophisticated.
The cow must be a black-haired Tajima, which is born in Hyogo province and raised there. This is a completely purebred, no doping (they are inbreeding). Beef must be castrated to ensure the meat's purity. Each cow must not weigh more than 500 kg.
Slaughtering must be executed in Kobe, Sanda, Kakogawa, Himeji, or Nishinomiya with traditional techniques and processes.
The marbling rate, also known as the BMS index, must be above 6. The quality of meat after processing must reach 4-5 stars according to the standard (called A4, A5).
There are currently about 260 farms in the Kansai region of Japan that are qualified to raise Kobe beef, that are meet strict procedures and standards. Each year, the number of Kobe beef produced only about 5,000.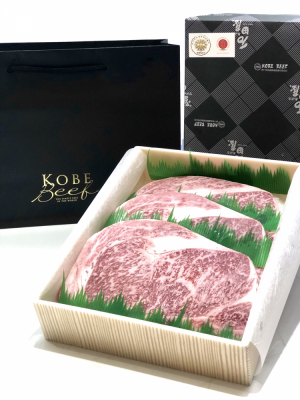 Kobe Beef Gift Box is imported and provided by Bio Farm / Bio Planet.
Kobe beef was banned from export out of Japan
Yes, this is true. However, since 2007, the ban has been gradually loosened. However, the export of Kobe beef out of Japan is still strictly controlled. Only the Japanese Kobe Beef Association has the authority to license exports.
To become a Kobe beef importer, businesses from other countries have to go through elaborate negotiation with Kobe beef exporters under the Association, that can demonstrate their capacity in the local market. as well as a commitment to sales volume. Enterprises participating in import and export activities of Kobe beef must be a member of the Association, pay annual fees in Japan. Each batch of Kobe goods exported through the official channel out of Japan is updated on the Association website.
Visting Japan, you must definitely enjoy the ultimate Kobe beef
Former US President Barack Obama ordered a special meal with Kobe beef when visiting Japan in 2009. The softness of beef like butter is famous all over the world. Many American politicians, royal members, Hollywood stars, or famous people … often enjoy Kobe beef when coming to the sunrise country. Some of the stars have even requested anonymous visits to farms to see Kobe beef farming firsthand.
Buy standard Kobe beef – receive 5-star standard gifts
From September 21 to December 31, Bio Farm and Bio Planet (the official importer and trader of Kobe beef) cooperate with five-star partners, to give customers a voucher worth 3 million VND when buying 10 million VND of Kobe beef imported and distributed by this unit.
In Hanoi, the voucher is valid for services at the five-star Sheraton hotel.
In Ho Chi Minh City, the voucher is applied to all dining services at the Ibuki restaurant in the five-star New World hotel.
Video processing Kobe beef